MAYA Mandala Painting
---
Create your own unique Maya Mandala
Upcoming workshops:
TBA
Discover what your Sacred Mayan sun sign is and  and use it as a centrepiece for your personal Mandala in this unique workshop created by Tania Williams.  Tania has a degree in Anthropology and has been studying the Maya for over 20 years, using Mayan elements in many of her artworks.  We will briefly discuss the Mayan Calendar and the December solstice date which heralds the transition into a new era for the Maya.  You will then create your very own Maya Mandala, of which the process and end result are equally enjoyable and healing.  No art experience needed.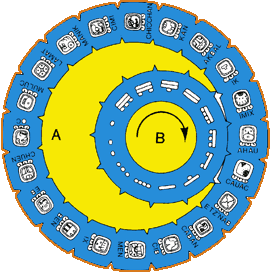 The Tzolk'in calendar
The 260-day Tzolk'in, or sacred calendar, is the oldest calendar known in Mesoamerica, dating back to at least 600 BC.  It was based on the nine month human gestation period, and is still observed today among traditional Maya groups. The day on which you were born speaks of your, character, soul and destiny, and as such is a great teacher for your life. Learn more about how the Sacred
Tzolk'in Calender
works.
The  Maya began their day at Sun Rise not Midnight, so if you happen to be
born in the early AM i.e., 3:00 am you might consider using the previous day to look up your Sun sign and tone.  For example, if you were born on May 15th at 3:00am (Before Sun Rise) it's worth checking the results for May 14th to see if that day's Mayan Sun sign and Tone fit you better?